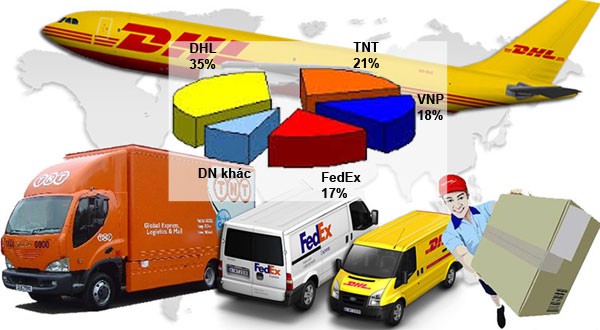 The Vietnamese delivery market is being considered by many "giants"
One by one, four big names including DHL (Germany), TNT (Netherlands), FedEx and UPS (USA) have quickly entered the Vietnamese market in cooperation with domestic enterprises. dominates the courier service segment in the Vietnamese market. After there are no more domestic competitors, these foreign enterprises move to the stage of dominating market share and consider the plan to separate from the joint venture model to become 100% foreign owned enterprises.
Silently transform
In a short time, foreign corporations DHL, TNT, FedEx and UPS have shaped the shipping market in Vietnam.
Recently, the extraordinary shareholder meeting of Tin Thanh Express Joint Stock Company (TTC Express) also approved a plan to transfer 70% of the shares of major shareholders to 3 investors, including: Service One Member Limited Company Gia Ly, KLN (Singapore) PTE.LTD and Kerry Intergrated Logistics JSC (Hong Kong). Thus, after 13 years of operation in the courier field, Tin Thanh has had a new brand name Kerry TTC Express, officially becoming one of the delivery companies with foreign investment.
By the end of 2013, UPS acquired a 49% stake in VNPost Express and became the first express carrier with 100% foreign capital ownership in Vietnam , opening the plan to separate from existing joint ventures. other courier. It is forecasted that in the coming time, global express delivery firms will consider a plan to separate from the joint venture to become 100% foreign-owned enterprises to operate in Vietnam.